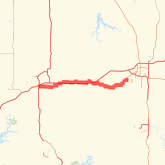 Duration
3:18:35
Calories Burned
5676 kCal
09/07/2016
Activity

Bike Ride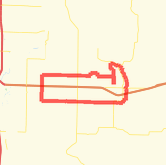 Duration
1:40:00
Calories Burned
1339 kCal
03/15/2014
Activity

Bike Ride
Duration
4:00:00
Calories Burned
3478 kCal
07/27/2013
Activity

Bike Ride
I am saving up so that I can upgrade to a hybrid or road bike. My goal is to upgrade after I've ridden 1000 miles on my Trek 4300 mountain bike.
Update 2013: 1800+ miles, bought road bike, working toward 75-100 mi events! I bicycled often while growing up in Kansas. The wind was sometimes a challenge, but the flat land was nice. I have fond memories of the many things I saw while riding out on county roads while growing up. I moved to Missouri in 2011 and decided to begin biking again in late May 2012. It took a while, but I am now able to handle many of the hills I encounter without too much trouble. I have been fortunate enough to ride with several different neighbors as well as a Saturday morning group. It is now late Sept 2012 and I have been bicycling 3-5 times per week for the past 4 months. I am now riding 15-25 miles per day and averaging nearly 15mph on my longer solo rides! My rides with others are much slower paced (8-12mph), but that's just fine because I prefer the company of others over speed. I would really like to meet riders interested in exploring longer rides such as Frisco Highland (Springfield to Bolivar) and the Katy Trail (Clinton to St Charles). Contact me. We can ride a few local routes or trails a few times and discuss further. UPDATE 10/2012: See goal below. I've ridden 1150+ miles on the mountain bike this year, including solo FHT (0-36+) end to end, solo FHT (8-31+) gravel end to end, and various FHT (0-8) and SC (0-8) rides both solo and with others. Trying to figure out layers so that I can continue riding in the colder weather. Hoping to find a new bike by spring! :)
Jason has no personal details.
Gear Tracker
You haven't added any gear yet.